Welcome to 2cvimports !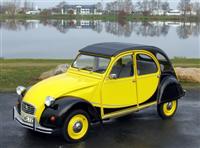 The #1 source for Citroen 2cv's in North America
If you are looking to purchase one of the most fun cars ever made, you've come to the right place. Established by a second-generation Citroen 2cv enthusiast, 2cvimports has been importing 2cv's since 2003. Each year, a team of 2cv experts travel to every corner in France inspecting literally hundreds of 2cv's to select the very best of the best to import into the United States.
Please have a look through the website to find out more about us, and to see our current inventory.
Almost every week we list a 2cv for sale at auction through eBay, which is always linked to from the eBay menu option on our site. With over 30 cars sold through eBay and many more privately, you can see for yourself in our 100% feedback rating (2cvimports) that our cars really are the best.
If you are looking for a particular 2cv model or color combination which we do not currently have available, please do get in touch with us by emailing 2cvimports@gmail.com, or by calling (602) 635-3869.